Hyundai Canada is a classic brand well known for its dependable and affordable vehicles.  Hyundai is beginning to target the first-time buyer who operate mainly on mobile devices. To take full advantage of the quick browsing ability of mobile, Hyundai is building out their mobile site as a key entrance to the purchasing process. 
My team was tasked to interview mature students and young professionals who are familiar with mobile shopping, and analyze how they interact with the Hyundai website. User scenarios were conducted with eye tracking software, allowing us to pick up on issues that would usually go unnoticed.
What usability issues arise when users interact with the Hyundai Canada website?
Team:
Sara Deeming, Vivian Hyang and Ezgi Cokuysal
Role:
  UX Research, UX/UI Design
Timeline:
 December 2017 - January 2018
Tools:
User Interviews, Customer Journey Map, Tobii Pro Eye Tracking Software, System Usability Score, Prototyping
Our scenarios focused on user interactions with three major interactions on the Hyundai Canada website and answered the following questions:
1. What was the users initial impressions of the website and can they identify any special promotions, 
2. How do users interact with the "Build & Price" tool while looking for a specific model (the Elantra) 
3. Can the user find the "Book a Test Drive" tool and schedule a date with the car they just built? 
We conducted our sessions out of the Humber Usability Lab with Tobii Glasses & the Tobii Pro X2 to record eye tracking analytics. Usability issues and corresponding recommendations were presented to stakeholders from Hyundai Canada's design agency INNOCEAN.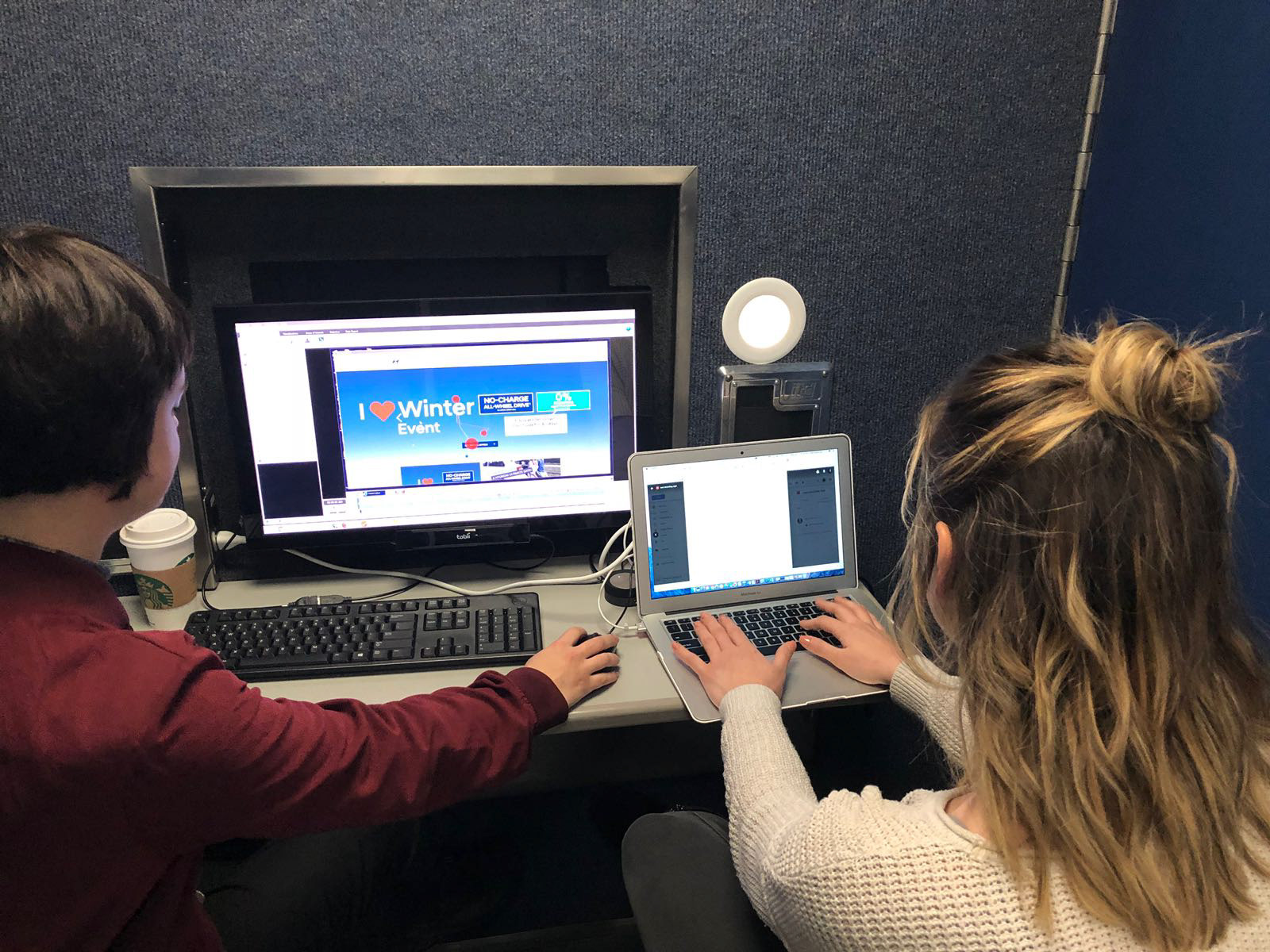 Identifying opportunities for improvement & creating potential solutions
Calculating each participant's System Usability Score pointed us to look for the biggest roadblocks, as 4 of 6 participants gave the website a below industry average score. This indicates that some adjustments need to be made to the site to make it more user-friendly.
Users miss "FIND" button when entering their postal cod
e
Top Finding One:

Location of the find button beside the postal code entry box was skipped over by all users. Insufficient error messages users had to scroll to see also inhibited from users to move through to successfully book a test drive.
Users were frustrated because they could not figure out what they were entering wrong. Users were not able to locate themselves or the nearest dealership to them because of this issue.
Top Finding Two:
Users did not like that they had to excessively scroll (on mobile and on desktop) to get to the actual cars. We observed that this is a big issue within Hyundai's special offers page. Some users also found the ad banners on the landing page to be big and distracting. 
Top Finding Three:

 Every user tested felt they needed some way of orienting themselves when they were asked to choose a Hyundai location to book their test drive. The dealerships were not listed in any specified order and no distances were indicated either. Some users left the website and tried to search the addresses on Google Maps. 
Addition of map feature to the "book a test drive" feature & use location services


Users want to know where the various dealerships are actually located, and they don't like to enter their postal code. Having a list of three locations with street addresses is not enough information, especially after they have entered a postal code. Users have to leave the website to figure out what dealership is closest. 
Users would benefit from the addition of "use my location" function to expedite the form to book the test drive, and the map will aid them in correctly choosing the ideal dealership for then to visit.
​​​​​​​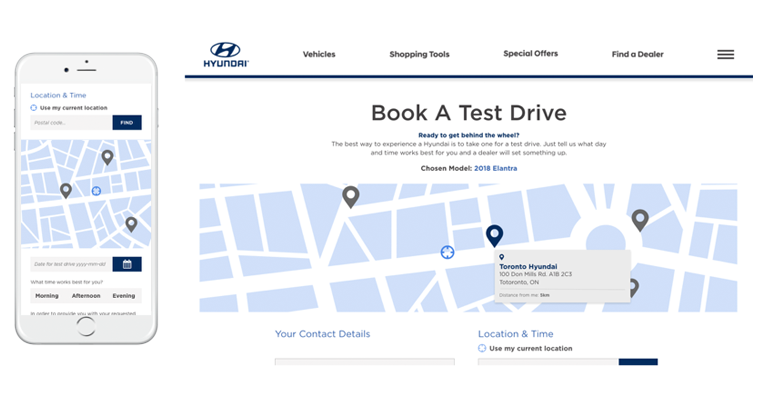 Grid option when choosing a model
Users don't like the amount of scrolling it takes to view the available car models on the desktop version of the site, or the mobile site. Users would like to see more cars at one time on their screen. We suggest keeping the list view for those who like viewing larger cars, however offering an option for users to view the cars in a grid.
​​​​​​​